What a day!!!! Our Florida Haunters group planned our first Make and Take of the year for Valentine's Day. I have to say, it was probably the best M&T I've had the pleasure of attending so far. It was a good day for a M&T too, especially since it enabled Andy to attend a RC Fly-In in Deland while I was with my haunters. His friends couldn't believe he was allowed out on Valentine's DAy... and asked, why would they schedule a gathering on that day?? Well, why would a bunch of RC guys schedule a fly-in on V-Day?
I had to work Friday night and didn't get home until 8 AM that morning, so I was already running late. Several issues slowed me down (rain, not being able to find things, etc.), so I didn't get to leave until 10 AM. My son spent the night with his dad, so that left me with my 2 daughters, Taylor and Emily. We loaded up the Suburban, forgetting several things of course, and started our trip to Edgewater in the rain. By the time we hit the Palatka exits, the clouds parted and the sun shone and the day was looking brighter. We ended up with a beautiful sunny day, in the high 70s and sunburns!
We pulled into Edgewater just after noon and were greeted by a winged Blucky creature on the front lawn and one of my favorite haunters - Coda! We made our way into the back yard of our super hosts, CylonFrogQueen (CFQ) and Hamm, and there were our Florida Haunters, building away! My friends, IshWitch, Maureen, Spyder and Hamm... and I finally got to meet my new friends CFQ and Hamm. What a great couple they are - so gracious!! They had everything set up very well for the M&T - plenty of room for the build and for show-and-tell props. You can really tell that they are the consummate hosts! We laughed and had so much fun, Coda really kept his trademark one-liners coming and Spyder with his very unassuming self would pitch in and leave me with the giggles. Maureen is an amazing and skilled prop-builder and was really quick in getting her shiatsu prop going. I would LOVE to have her for a next door neighbor. Her daughter Stephanie is always a treat to be around, such a pleasant and fun demeanor, just a really great kid. IshWitch ended up with a good movement on her prop - and man she has some GREAT stories from work to tell us! Her specimen jars were a trip and her Valentine's Day cards were great. I always enjoy being around both of these women, great personalities and talent!
Spyder is such a shy man, but he is so smart and talented... and FUNNY! He tends to be quiet most of the time, but every once in a while he comes out with a line that just cracks me up. His props are amazing and I'm glad he brought some of them for show and tell. He even let me take one of them home! My girls REALLY liked his hacked RC car ground-breaker prop, and he offered it up to me, so I took it gladly. I'd like to make some more of these using his method... they're really cool. His spider jumper was fantastic and I could definitely see one of those gracing my haunt. I really am glad he loves so close to me, I need to get his help when I really get into pneumatics.
Coda- well, what to say about Coda... He is a TRIP! Oh man, he just NEVER stops, his mind is always sharp as a tack. He is so funny and so quick with his wit. I love being around him, absolutely LOVE it! He's also so helpful and generous. He brings his "garage on wheels" with him to our M&Ts and has everything you could possibly need to make a prop with him. I can't even begin to tell y'all what a gifted man he is (gifted in the good way, not the "short bus" way...lol). His props are amazing... every single one of them. I especially loved his "Brutus", which is just fantastic. He's another that is really talented at everything he does. His deviled eggs were yummy! I could go on and on, but that'd make his head swell up!
Brushe - what a wonderful man! He's another really talented haunter - his props were outstanding! I love his pneumatic works, and I'm kinda partial to the gator. :) I can't believe they packed all those props in their motorhome. They had several of them, and these aren't small props! They brought their dogs too, Kong and Dixie, and the kids LOVED them. Beautiful animals.. I am so glad that he and his wonderful wife Becky made the trip all the way from North Carolina. Such nice people!! They are our "Honorary Florida Haunters". I truly wish they lived in Florida. I hope to see them in the future and consider them part of our Florida Haunter family. Becky made a terrific Kahlua gelatin "body part" mold, which was DELICIOUS! I wish I could have had more of it, but having to drive kept me from doing more than tasting it. (I very well could have devoured the entire thing!!) The sweet potato biscuits were to die for as well... and that bread pudding? OMG - SO good, I had TWO helpings! I wish I could have stayed longer to hear Brushe sing and hang out with them both more. Maybe one day I'll get that opportunity. I'm very thankful for the Fairy art that Brushe gave to me... I absolutely LOVE it. I thought he did a wonderful job on the ones he did (Versions of VoodooWilly's originals on HalloweenForum) and was blown away when he said this one is mine.
CFQ and Hamm- Sharron is a really genuinely GREAT person. With all she had going on with sickness in her family, she still managed to pull off being such a gracious hostess. I can't believe how creative and kind she was - even making up some parting gifts for all of us. She went to Home Depot and charmed some of the essentials that we haunters use out of them and made up some really cool gifts for us to take home. My personal favorite is the FloridaHaunters tool belt pouch. She even made up certificates for everyone! The food was great, everything was great... and this was her and hamm's first personal encounter with our group. They outdid themselves. Hamm's butt (a forum joke) was so tender and delicious!!!! Everything was delicious for that matter. And Hamm is such a funny and kind person. They are a great couple and great haunters. I wanted to stay and hang out some, but that long drive and no sleep was such a party pooper. Thanks to Hamilton, I was able to actually leave. Apparently, someone (probably kids) hit the interior light button, so with the back door open all day on the Suburban, my battery was dead. Thanks to Hamm and Coda, it was back up and running in no time - and now Coda can say he had the opportunity to "jump" me! :-D
We left after 6 and got home just after 8. Taylor kept me awake by playing the "Worst Case Scenario" questions game with me and we made the stupid incorrect answers into a story line. When I got home, Andy was waiting for us. I read my Valentine's Day card from him and opened up that box of chocolates I knew was waiting for me, and we settled in for the season opener of Survivor on On-Demand. After that and a nice hot shower, I was SO ready for bed. Once my head hit that pillow, I was gone into oblivion and slept for 12 straight hours.
I just can't thank everyone enough for the day we had yesterday. Even though my day started off kinda on the wrong foot, I forgot half my supplies, I ran really late and didn't even get to make my prop, I STILL had one of the best M&T days ever. Thank you, to my friends, my haunter family... you guys and gals ROCK!!!
Our Florida Haunters, left to right:
Back row: Maureen, Becky, Coda, Brushe, Hamm and Spyder
Front row: Ghostess, IshWitch and CylonFrogQueen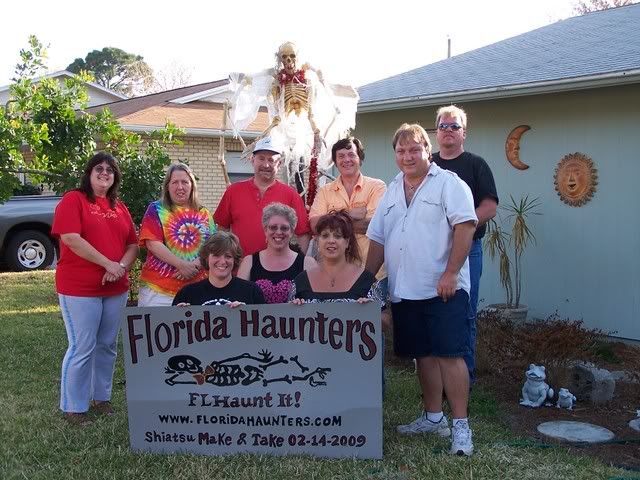 Photo courtesy CylonFrogQueen